How to register on the Trans.eu Platform
You can create an account for free and purchase a subscription on the Trans.eu Platform on your own and without the need to contact the helpline. In the video below we explain exactly how to do it.
Create an account on Trans.eu by clicking the link below:
NOTE: If the e-mail address you provided has already been used on the Trans.eu Platform, the system will inform you about it and encourage you to log in. If you don't remember your login details or want to create a new account with the same address:
✅ Call the helpline at +48 71 734 17 00 (available on weekdays from 7:00 a.m. to 5:00 p.m.)
✅Chat with us on LiveChat and select the conversation topic "Access for Carriers" (the option is available on weekdays from 7:00 a.m. to 5:00 p.m.).
✅ Write an email to info@trans.eu.
Account authorization on Trans.eu
One of Trans.eu's core values is safety. To quickly identify potential unfair contractors, we have implemented an authorization process on our platform.
Verification of each company is a standard procedure that we take very seriously. Therefore, this process is divided into several stages, especially for companies that have a short history of operation. The effectiveness of our efforts is proven by the high number of rejected applications to the Platform.
Importantly, authorization is just one element of security on Trans.eu. We also constantly monitor companies that contribute to our freight exchange. All of this is done to ensure that the Platform is a network of trustworthy and reliable contractors. To use the full potential offered by the Trans.eu Platform, you need to go through the authorization process and purchase a subscription.
Purchasing a subscription on the Trans.eu Platform
Take advantage of the promotional price for your Trans.eu subscription now!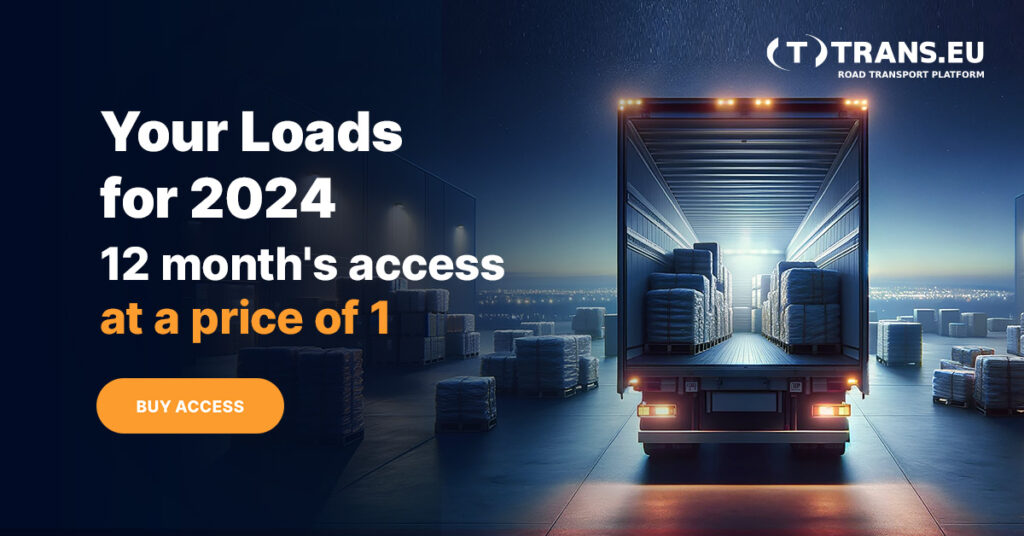 What is the Trans.eu Platform?
Trans.eu is the largest community of carriers, forwarders and shippers in Europe. Over the last year, it featured:
👉 over 5,700,000 offers per month for vehicles over 3.5 tons,
👉 over 1,542,000 offers per month for vehicles up to 3.5 tons, which makes us the European leader in this segment.
This totals more than 7,242,000 monthly offers!
However, Trans.eu offers much more than just access to spot loads. The platform also provides:
👉The ability to join private exchanges to which your trusted freight forwarders can invite you.
👉 Load offers on your phone with the Loads2GO! mobile app.
👉 Comprehensive safety – verification of your potential contractors through the authorization process and the assessment system, including TransRisk assessments – an independent indicator of payment credibility.
👉 Easy search filters and full access to the archive of negotiations.
👉 Vehicle exchange, allowing you to publish information about your fleet and propose the loads you need.
👉 Saving time, operational flexibility and a chance for greater profits!
Experience the most modern transport exchange with Trans.eu.
Want to learn more?
Read also: Trans.eu exchange – the easiest way to find loads