Get 12 months' access at the price of 1 month!
Every day you're looking for the most favourable offers. You want to ensure the security of your business and work with trusted contractors. We get this. That's why we want to help you make a profit and grow steadily on Trans.eu. 21,000 carrier companies similar to yours already do business on our Platform every day. On Trans.eu you'll find 9.5 million offers monthly from 4,000 shippers and 12,000 forwarders.
Trans.eu is now present in the UK! Check out the special welcome offer for your company – ⭐ an annual subscription at the price of one month!
👉 Order an annual contract by 30 November and pay just €129 instead of €1548!
👉 It's a 92% discount on a yearly subscription!
👉 You only pay for the first month and use Trans.eu for 11 months FOR FREE!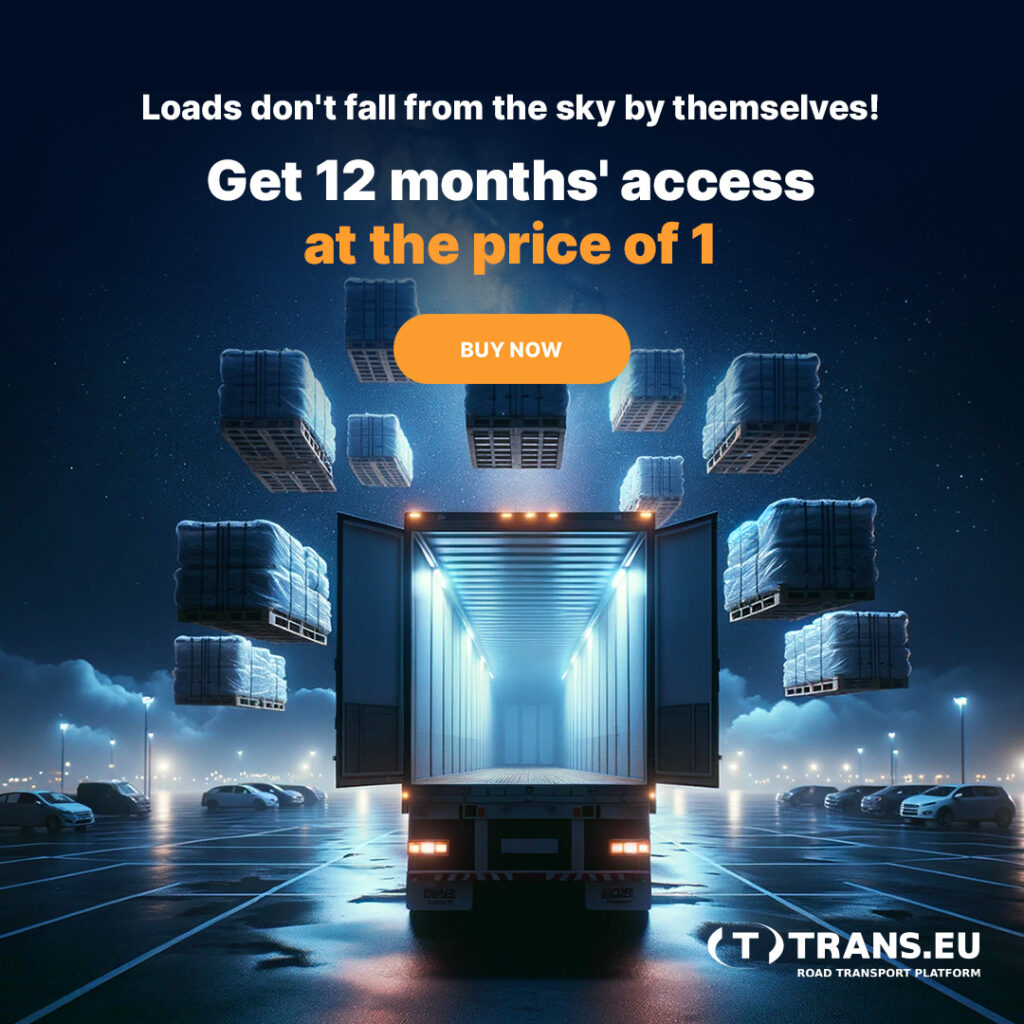 Don't miss the chance to save money. Create your account now and take your business to the next level! Earn more with Trans.eu!
Sign up for free and grab the deal
Create a free account via our form, selecting "Road haulage". We will contact you and take care of the rest!
If you already have an account on Trans.eu, contact us by one of the following methods:
✅ Write to us on LiveChat and choose the topic of conversation "Carrier Access"
✅ Email us at info.uk@trans.eu
✅ Call the helpline: 44 (0) 203 80 85 086 (available weekdays from 7:00 a.m. to 5:00 p.m.)
Trans.eu Exchange – the easiest way to find freights
What access to the Trans.eu Platform means for you?
👉 9.5 million offers monthly (on international and domestic routes) for any type of truck body
👉 Reliable source of loads from verified contractors: 4,000 shippers and 12,000 forwarders
👉 Precise search filters and full access to an archive of ongoing negotiations
👉 Mobile access to freight exchange with notifications on your phone
👉 Security of your data
👉 Access to ratings and opinions about contractors
Learn more about the leading-edge transport exchange from Trans.eu.
Read also: Trans.eu exchange – the easiest way to find loads
You can find all the details in the in the Terms and Conditions of this promotion